Not quite sure if you read that right? Is it really possible to earn money while you save lives from home? With the Matching Donors affiliate program, it is possible, and the income you can generate is limitless. 
This is one of my favorite affiliate programs. Not only because MatchingDonors.com's  mission is so altruistic, with 100% of profits going toward finding organ donor matches in the United States, but because getting people to the page is easy. Almost all of us know someone who at the very least knows someone who knows someone who may benefit from the patient perspective.
Even more so, this organization is so deserving of donations that people naturally want to take a look to see how they can help. The marriage between affiliate marketers and non-profit organizations is almost always a good one, and with generous commissions and multiple marketing plans available this organization hits it out of the park. 
Overall, with its altruistic mission, unique niche, generous commissions, ability to work from home on-line or off, a two-tier affiliate plan, exceptional marketing tools, and different marketing plans to choose from, the Matching Donors affiliate program is the perfect program for any affiliate marketer, from beginner to expert. Of course, as with any marketing program, you have to be willing to put in the amount of required work to be a success. Keep reading to find out more about MatchingDonors.com, the commission structure, the marketing plans, and for step-by-step instructions on how to join.
Did you know that twenty-two people die every day in the United States waiting for a kidney transplant, with most waiting 7 to 9 years? The team at MatchingDonors.com works hard to make sure that doesn't happen by finding altruistic living organ donors for people needing kidney transplants. In fact, MatchingDonors.com has become the most successful nonprofit organization that finds living organ donors. The MatchingDonors.com website can get over 1.5 million hits in a month.
Your Responsibilities as a MatchingDonors Affiliate Marketer:
Find those in need of organ transplants and make them aware of MatchingDonors.com. 
Promote the site so that people who are interested in donating sign up as donors.
Find people to donate money, cars, boats, real estate, RVs, Planes, and more.
Attract other affiliate sales reps to the affiliate program.
Marketing with the MatchingDonors.com Affiliate Program helps you earn large commissions by promoting lifesaving services or attracting donations. This can be done online, in person, over the phone and more, from anywhere in the world. This organization provides a unique opportunity as a stand-alone entity in a great market niche. You don't need a website or a blog, and you can promote your affiliate links on social media, as long as they abide by the community standards of the social media platform. In fact, you can be a successful affiliate completely off-line. 
COMMISSION OVERVIEW
Get paid for every referred membership, donation, and second tier conversion with no commission caps. If a referred individual donates multiple times, you will earn commissions every time. Affiliates can earn thousands of dollars from just a single referral.
The MatchingDonors affiliate program is run through ShareASale.com, where you are provided with unique text links, banners, videos, and unique phone numbers to spread through webpages, emails, messages, in person, and more.
MatchingDonors has two primary affiliate campaigns for you to earn commissions: a Membership Campaign and a Fundraising & Products Campaign. When you refer a member or donation to MatchingDonors, you will earn the following commission rates:  
25% from any patient membership referred by you
$200 commission from any donor referred by you that goes on to transplant
25% of the financial benefit of any referred vehicle, boat, plane, or other donation
10% of any financial donation
10% of the financial benefit of any referred real estate donations
20% of any commissions earned by a second-tier affiliate you brought to our program 
Plus, if you refer an individual that donates to MatchingDonors multiple times, you earn commission every time. MatchingDonors also proudly offers bonuses to affiliates that generate exceptional results.
MEMBERSHIP CAMPAIGN
This campaign is designed to attract new patient and potential donor memberships to MatchingDonors.com. We offer several different patient memberships at varying prices. You will typically make 25% of whichever membership your referred patient purchases.
Commission overview:
25% from any patient membership referred by you ( Equals $148 per patient lifetime membership)
$200 commission from any donor referred by you that goes on to transplant*
*The donor cannot receive ANY of this commission. It is absolutely against the law to give or receive any form of compensation for an organ donation. 
SECOND TIER AFFILIATE CAMPAIGN 
This is one of the most effective ways to make money as an affiliate. This campaign encourages you to attract new affiliates to the MatchingDonors affiliate program. 
For each affiliate you add underneath you, you make 20% commission on any commissions they earn. If you bring 25 hardworking affiliates to our program, you will be adding 25 sources of income for yourself.
Additional information:
The 20% you will earn does not reduce the commissions earned by your second tier affiliates.
You can add an unlimited number of second tier affiliates with no cap on your own commissions. 
FUNDRAISING & PRODUCTS CAMPAIGN
Over the years,
MatchingDonors
has received a number of donations from around the world, including cars, boats, planes, real estate properties, artwork, money, and more. These donations have raised the nonprofit hundreds of thousands of dollars, all going towards saving the lives of those needing organ transplants. 
Commission overview:
25%   of the financial benefit of any referred vehicle, boat, RV, plane, or other donation
10%    of any financial donation
10% of the financial benefit of any referred real estate donations
Step 1
Sign in to ShareASale.com and expand the 'LINKS' dropdown menu in the top margin; select 'GET A LINK/BANNER'. If you don't have a ShareASale.com account, you will first need to create one.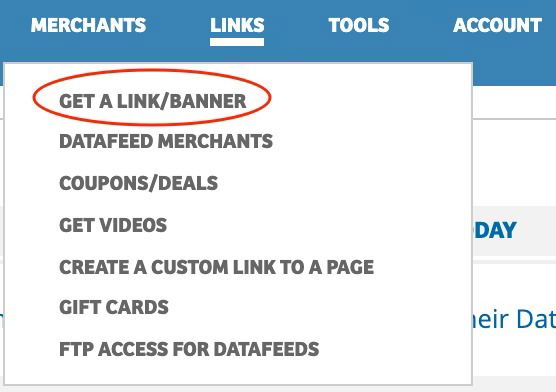 ---
Step 2
Find 'MatchingDonors.com' either in the Merchant Search, or under the Recently Joined heading.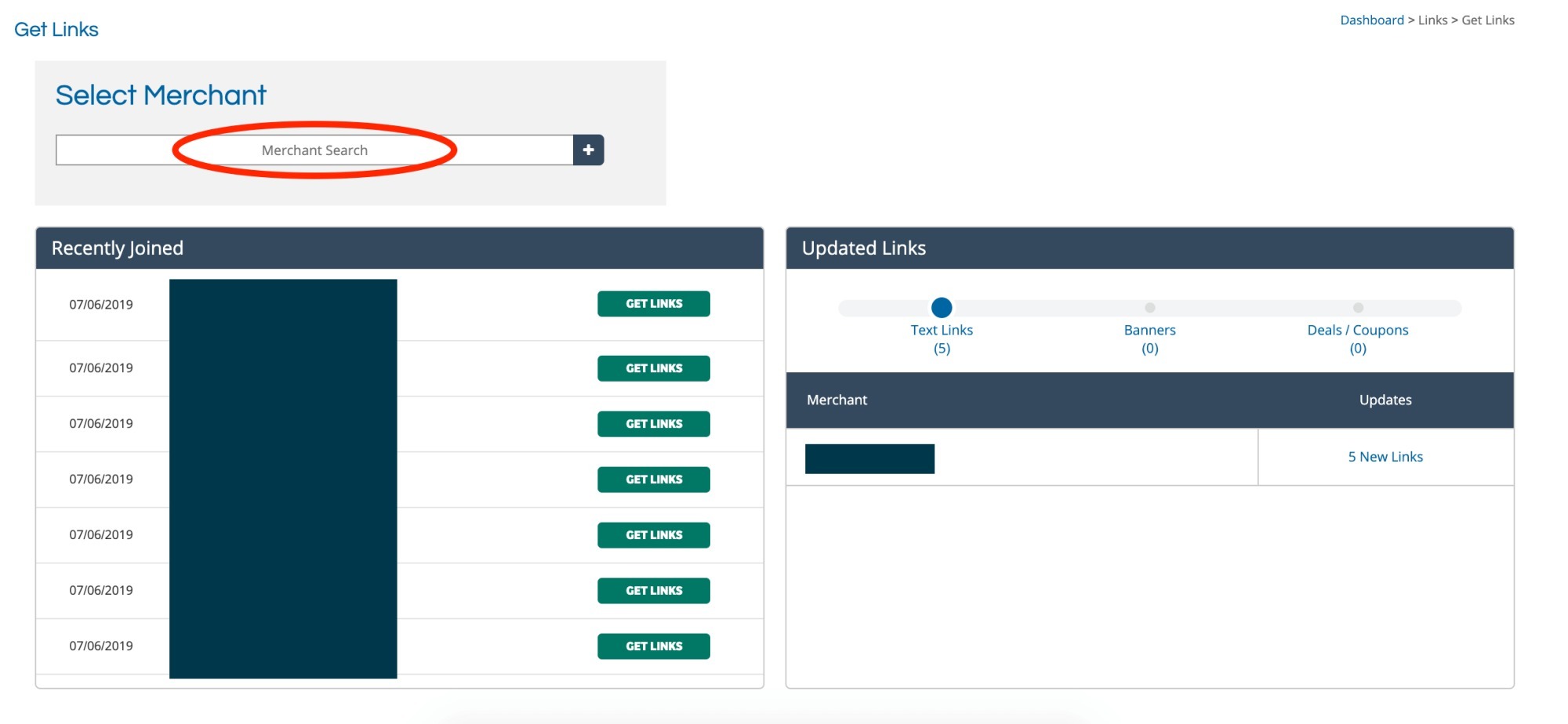 ---
Step 3
On the MatchingDonors.com 'Text Links' page you can access all of our affiliate promotional material. To collect the code for a given text link, locate the text you want to use, and click 'Get HTML Code'. It is very important that you use only these links when bringing donations and members in. These links are how ShareASale and MatchingDonors.com tracks that the leads were generated by YOU.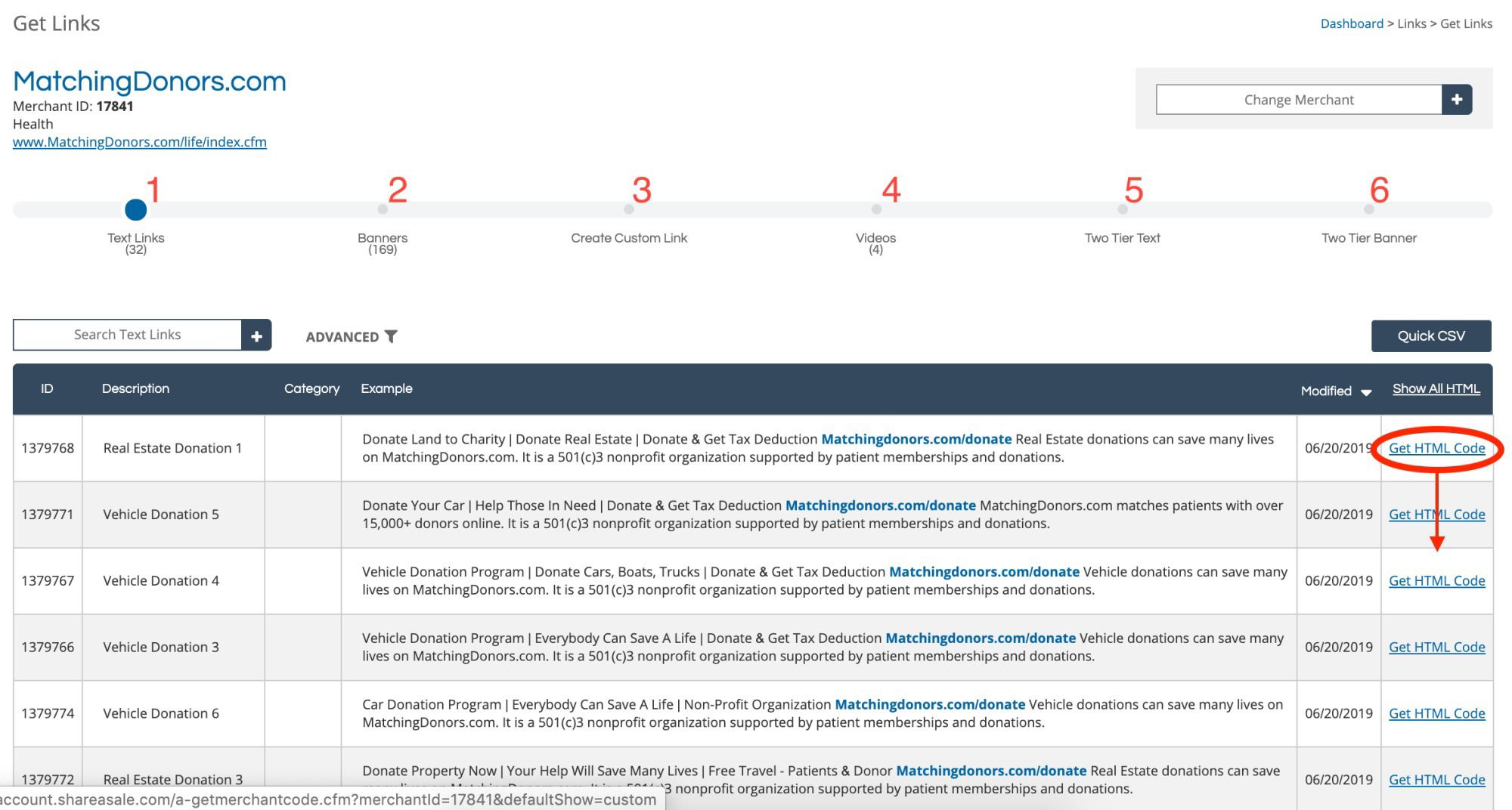 Campaign oriented text links (vehicle donation/membership promotion)
Campaign oriented banner image links (vehicle donation/membership promotion)
To create your affiliate link to a landing page you specify
Campaign oriented videos
Second-tier affiliate text links
Second-tier affiliate banner image links
Pro tip - We add and replace new material in each of these categories as the program matures so be sure to check back regularly for new content.